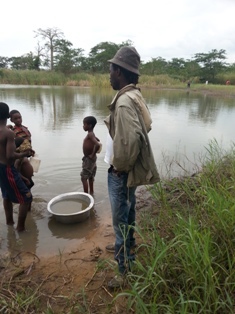 Water, the source of life that all human beings need daily to live, remains a problem for some localities and is missing in some villages where Centre Des Hommes intervenes. In Togo, we evaluated 5 villages that suffer from a lack of drinking water during the year. The only chance to get water is to wait for rain. Unfortunately rain does not fall every season of the year, during the long dry season in some areas water becomes scarce and difficult to find for use by the most vulnerable households and poor farmers. We have therefore decided to intervene to save the villages in lack of drinking water for at least all seasons of the year. The idea is to dig public wells or to build boreholes that will be linked to taps by pipes and pump. This is with the intention of facilitating, the life of vulnerable households and the work of farmers.
Goal, Vision, Mission, Field, objective And Strategies Of The Project Provide Drinkable Water.
Goal: To work for the construction of wells and boreholes for villages in need.
Vision: To create a source of drinking water for these villages.
Mission: To reduce the suffering of lack of drinking water for these villages.
Field of work: Social, agriculture, health, economy, and culture.
Objectives:
To make life less difficult by supplying the villages (which lack water throughout the year) with drinking water.

To allow the improvement of agricultural production.

To improve the health of the population of these villages.

Reduce the cost of living by supplying drinking water to these villages.

To contribute to the cultural development of the population of these villages by the provision of drinking water.
Strategies:
Construction of wells or boreholes that are drained to taps at the public place of these villages in order to provide access to drinking water in the village and make life less difficult for the beneficiaries socially.

To allow the possibility of drawing water from wells to water crops and facilitate irrigation through borehole water to feed agricultural crops in the fields and improve agricultural production.

Facilitating access to water for health reasons to save lives.

The establishment of drinking water sources for these villages decreases the cost of living of water supply. The cost of buying water will be reduced considerably.

However, the farming activity, harvest period, and the cultivation of agricultural products in general in these villages will become different.
Maintenance of wells and boreholes by village development committees.
Beneficiary and Result to be obtained:
More than 500 villagers per village will receive drinking water either by the well or by the boreholes drained (drilling) and equipped with taps.
Several agricultural cultures will be saved in the dry season. The populations of these villages will be able to have drinking water all the seasons of the year.