Practical information
About your trip, passport formalities, visa, insurance, health, bank, various and our advice about what you should bring.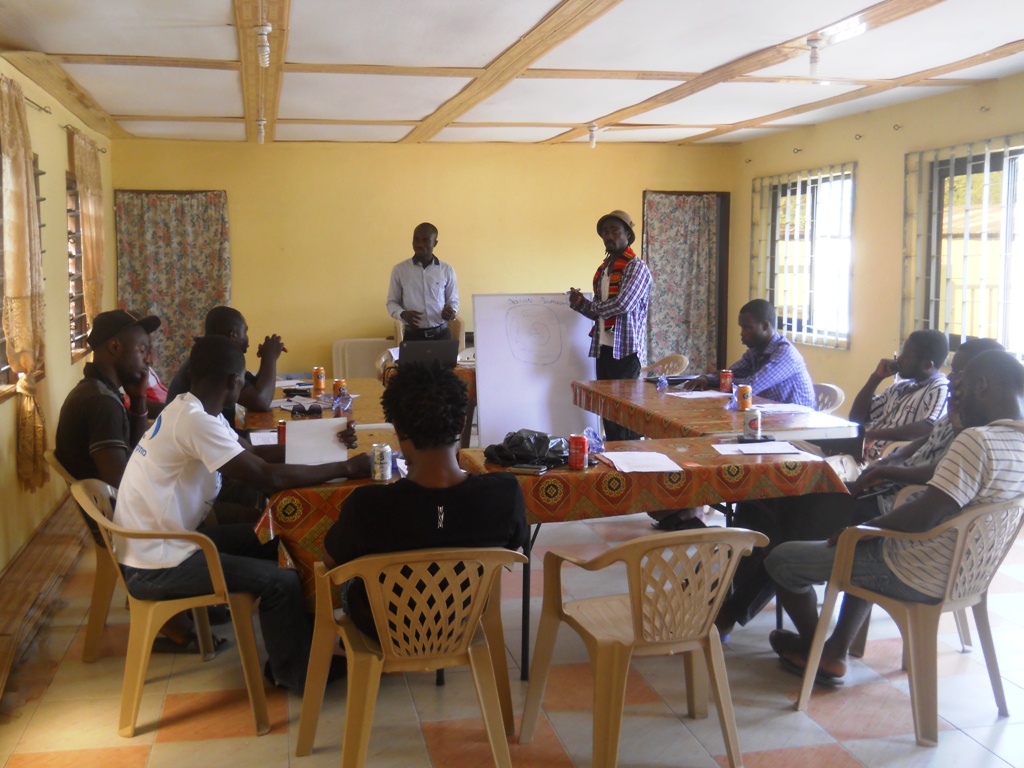 CDH Story: One of CDH members meeting story
Travel
Several companies currently serve Togo:
AirFrance www.airfrance.fr, Africa Airways, 190 rue de Rivoli 75001 Paris, 01.42.96.49.96.
There is a Libyan company that provides trips via Tripoli.
Brussels Airlines serves Togo with several flights per week.
Several African carriers also provide regular flights between Lomé and various capitals: Royal Air Maroc ASKY, Air Senegal International, Ethiopian Airlines, Air Burkina and Air Ivoire (taken over by Air France).
Depending on the company, it used to be between €400 and €500 round trip, although the current health crisis makes the rates very variable.  Make sure you buy a ticket with a cancellation and modification option.  Providing you give us your flight date, time and number, members of the Centre des Hommes team will pick you up at Lomé airport.
Passport and initial visa
Your passport must be valid for six months beyond the end of your stay in Togo. Centre des Hommes recommend you obtain your visa before arriving in Togo. For this you don't need to do a big effort, Togo republic do it easier for you by offering e-visa. All you have to do is go to the website https://voyage.gouv.tg/  or  and fill in the visa application form. After you did it keep the receipt to receive the visa in your arrival.  The visa dates should be checked as correct.
Arrival
During the Covid emergency, a PCR test on arrival and departure from Lomé airport is €121.  Do not use the airport porters.  Your luggage will be checked through a detector, and sometimes you will be asked to open your bags.
The first night will be in Lomé in accommodation provided by the organisation, or a hostel or hotel.
Then we go to the bank to change money for participation fees and for spending if you wish.  Be sure to tell your bank about your trip and find out what withdrawal fees, numbers and amounts are allowed.  They can also cover you in case of accident, repatriation or illness, sometimes using your bank card. You will probably need to buy a sim card for your mobile phone.  We may visit the France Volontaire association to inform them of your presence in Togo.  It is preferable to register with the French Embassy at pastel.diplomatie.gouv.fr/fildariane, which ensures you are kept informed of any official advice during your stay.  Print a copy of your registration.
Insurance
Inform your insurance company of your departure and check your rights in case of accident, repatriation or illness.  Your insurance provider will refund medical costs you accrue in Togo.  CDH does not cover you for insurance. You will have to inform CDH with the details of two persons to be informed in case of need, and the details of your insurance policy.
Money and exchange
1€ = 655,957 CFA Francs.  Only VISA cards may be used to withdraw cash in Togo.  You must have a bank receipt to change travellers cheques in Lomé... You can make transfers with Western Union.
Vaccinations
- Yellow fever vaccination is compulsory in Togo, although the authorities do not systematically control the disease.
- Hepatitis A, B, C, and meningitis: ask your doctor's advice.
- You need to bring an anti-malaria treatment with you, such as Malarone, Doxypalu or what your doctor prescribes.  There are also natural alternative treatments.
- Covid 19: visit voyage.gouv.tg/ and aeroportdelome.com/  These explain what is required to come to Togo, including changes in regulations.  You will need a negative Covid test dated less than 72 hours before your departure, to be presented on boarding at the airport. Upon arrival in Togo, you must repeat a Covid PCR test (60 € at your expense) and put an application on your phone to track your movements in case of Covid. You will have to do the same test again when you depart Togo (again at your expense).
Other information
- emergency kit, including medication for headache, throat, vomiting, and other normal complaints, plus water purification tablets.
- vegetables: for safety, wash well and soak in salt or juice water.
- drinking water: bottled mineral water (400 FCFA/1.5 L), or mineral water sachets (25 FCFA/500 ml), or Micropur Forte water tablets -all to be purchased before departure from your home country, or a filtering flask.
be careful with mineral water bottles that Togolese people fill with well water, writing deceptive labelling in felt-tip pin on the outside, which are a main source of contamination.
Accommodation
Accommodation is included.  Upon arrival, you will spend one night in Centre des Hommes accommodation or at an inn or hotel. For your mission, you will be lodged either in a familial home or in CDH's accommodation. The details will be agreed more precisely when your participation is confirmed.  Please bring a light sleeping bag or a blanket/blanket for cool nights, and a mosquito net.
Meals
Food is also included. It is provided by local Togolese volunteers of Aktion Verte, in collaboration with expatriates, volunteers and interns. We will make a tasty mix of Togolese dishes adapted to the palate of the "yovos" (expatriates)! In the host family, please specify if you do not eat certain things, possibly wish to cook alongside them, and to share cultural and gastronomic differences!
Household chores such as washing up, cleaning and cooking are shared between the people of the association, the trainees and volunteers. In the family, the participation in the tasks is the same.  Everyone must participate and respect the common rules. For drinking water supply, you should expect a small extra budget to buy spring water in bottles, sachets or micropure, or come with a filtering gourd. For brushing your teeth, you can bring water purification tablets (or an ecological version: clay + lemon essential oil) or drinking water.
Note that our staple food in Togo is yams, corn, cassava, beans, potatoes, rice, vegetables, pasta and meat.  People with special diets are asked to let us know on their application form and again upon arrival.
Weekends are free and dedicated to different tourist sites and outings (excursions, waterfalls, botanical walks, animal parks, canoeing and the beach).  As the weekends are free, the meals will not be provided then by the association. There will be possibilities for day, weekend, or multi-day trips. During these periods "out of training course or out of voluntary work", the expenses are your responsibility.  However, during the outings or trips, a Togolese volunteer will be with you to serve as a guide, for your safety and to avoid scams. The cost of this volunteer will be charged to the trainees or volunteers involved.
Participation fee: Volunteer
The participation fee is between €600 and €1,000 per month for each person, depending on the chosen program.
Food during the entire stay will be provided by Centre des Hommes or the host family.  Three meals per day: breakfast, lunch and dinner.
Accommodation during the time in Lomé when arriving and departing, at  hostel or hotel.
Lodging at the internship / mission site.
Water, electricity and internet connection if possible (depends on the place of mission).
Reception and return of the volunteer / intern at the airport,
Travel from the accommodation in Lomé to the consulate of their country of origin for registration, to the bank for currency exchange, visa service and for other formalities at the beginning of the internship/mission
Transport to and from Kpalimé or the internship / mission site
Operation of the association and management of the mission / internship:
Administrative expenses (photocopies, documents...), travel expenses for the internship / mission;
Purchase of materials necessary for the mission / internship.
Participation fees do not include:
meals during free weekends.
personal expenses, such as drinks, souvenirs etc..
personal travel (leisure and recreation).
medical expenses.
travel arrangements (airfare, vaccinations, visa, insurance, etc.).
visiting fees for tourist sites and excursions during the weekends.
Accommodation during free weekends.
Personal telecoms expenses.
You should have some pocket money for your personal expenses (outings during the weekends, tourist visits, parties, souvenirs etc.), about €200 to €350 per month, depending on your needs and wishes.  Plan a reserve in case of medical expenses.
Packing list
- Light sleeping bag / sheet or blanket.
- Lightweight clothing, preferably cotton or linen.
- Clothing suitable for evenings out or during the organised weekend excursions.
- Walking shoes, such hiking boots or sneakers for the organised excursion weekend.
- Sweater for the evening -the nights can be cool!
- Sunglasses, hat, high-factor sunscreen.
- Impregnated mosquito net -buy in Togo, and it may be cheaper.
- A swimsuit and a bath sheet for trips to the beach or waterfalls, but be careful, as the sea can be dangerous with a shifting sands and strong currents.
- Toiletries and towels; bring Marseille soap to wash yourself, or any ecological product, as well as to wash your clothes. Plus a small brush to wash clothes, clothes pins and string. Baby wipes are very practical.
- A flashlight or dynamo lamp for the night, as it is dark at 1800.
- Emergency kit, as above.
- Toilet paper is available cheaply locally.
- Notepad, pencils and pens.
CDH receives no state help, so we really appreciate your donated equipment and materials, for teaching (paper, pens, textbooks, books), agriculture (gardening tools, seeds etc), office and computer equipment and consumables and peripherals, digital cameras etc.
You are responsible for the security of your belongings.
Work schedule
This will be agreed on your arrival and through the project.  Normally it is 08:00 to 12:00 and 14:00 - 17:00 Monday to Friday.
The volunteer or trainee commits to respect the conditions and information above.