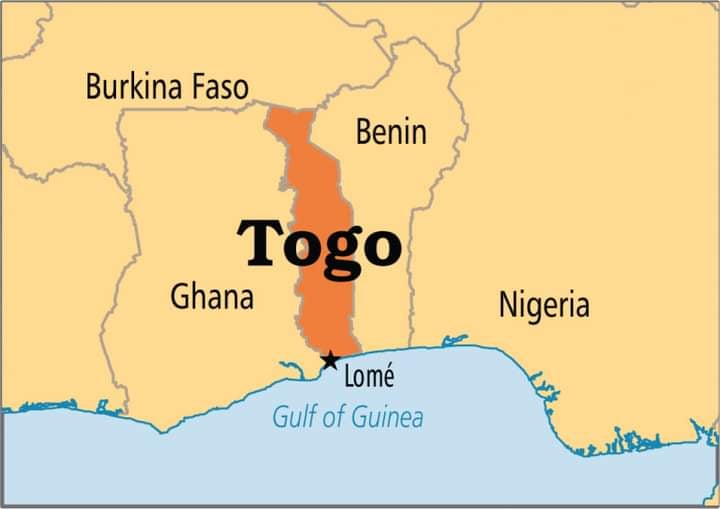 Geographical position of Togo
Country information
Togo is classified as one of the poor countries in West Africa
Official name: Republic of Togo
Population: 6 million
Area: 56,600 sq. kms.
Political system: republic
Capital: Lomé
Regions: maritime, plateau, central, Kara and savannah
Currency: Fcfa
GDP (per capita): $900 (2010 estimate)
Languages: French (official language), (English, German)
Religions: Roman Catholic, ancestral practices of Animism
Country bordering Ghana to the west, Benin to the east, Burkina Faso to the north, Atlantic Ocean / Gulf of Guinea to the south.
Map, location and project place shared
Project, learning experience, work camp and place information
With Centre des Hommes, the projects usually take place in the villages near the town of Kpalimé, enabling the management of several work camps simultaneously.  All the villages are about the same size and in the plateau climatic location. However, we do sometimes intervene on request to organise work camps in other areas .
The city of Kpalimé has about 80,000 inhabitants, with postal and telecom services, Internet, a hospital, a market, banks, a video club, a hotel with air-conditioned rooms, bar-restaurant where traditional and European meals are prepared, and there is a swimming pool. It is a smiling and colourful city located at 250m altitude.  You can visit the handicraft centre and the weavers' workshop, plus the art store represented by Centre des Hommes located on the Atakpamé - Kpalimé road, which is a source of funding for our projects.
The villages near Kpalimé are Eyoh and Yokele, of Keples are Hagnigban, Tsame, Kpodji, Lavie, and Kpime, of Kouma is Danyi, and around Agou are the highest mountains in Togo, at about 1,000m.  In these villages, the majority of the population are farmers, housekeepers, and school teachers. One can also find there postal services, rarely the Internet, a dispensary, a market, taxis and public transport.
The people of these villages are essentially peasants, offering distinctive hospitality. You will find tropical fruits everywhere in these villages. Some of them are very touristy, especially those located on the hill plateaus with very impressive greenery and a climate that is good for living. Mostly young and very welcoming, the population of these villages are mainly farmers.  The cultural activities and customs of these villages reflect the Ewe tradition. The folklore and traditional dances of each village are unique. Dances such as akpessè, agbadja, gazo, amamano, attrikpoe are performed. The culture is predominantly animist. The authentic red clay huts make the villages particularly appealing.
As an indication of the landscapes, this is a description of the road coming from Ghana (Kpando road) to Kpalimé: from Kpalimé take the road to Kpando (Ghana) with all its twists and turns, flanked by waterfalls, teak trees and luxuriant vegetation. After a beautiful view on the plain, we arrive at Kloto (11km), at 600m altitude. We can stop at the comfortable camp there (16 km), where there is a restaurant, bar and art objects. By a goat trail, we can go to Missahohé, a picturesque site dominated by Mount Kloto (960m), from where we have a magnificent view of the city of Kpalimé and Mount Agou. You can ask to visit the Hausberg (Viale Castle). Take a walk in the very beautiful Eyoh forest, where you can see the waterfall surrounded by many flowers, pineapple fruits, and wild mango trees.