Water, the source of life for all human beings, remains a problem for some localities, with none in some villages where Centre des Hommes works. In Togo, we evaluated five villages that suffer from a lack of drinking water during the year. 
So, the only chance to get water is to wait for rain.  Unfortunately it does not fall every season of the year, and during the long dry season in some areas water becomes scarce for the most vulnerable households and poor farmers. We have therefore decided to intervene to ensure the villages have secure drinking water at all times.  So, the idea is to dig public wells or build boreholes that will be fed to taps by pipes and a pump.
This is to say we have evaluated the lack of water in five villages, and wish to build wells or  boreholes linked to pumps and taps so that the the villagers can have drinking water. The project will be a collaboration with the whole village and neighbourhood.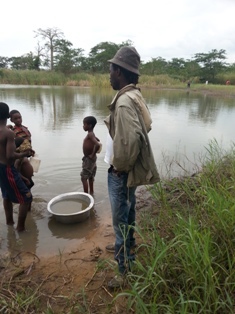 Achieving drinkable water.
Construct wells and boreholes for villages in need, to create a secure source of drinking water. 
The objectives: 
Improve the quality of life in the

villages. 

I

mprove agricultural production.

I

mprove health

in

these villages. 

Reduce the cost of living

of the

village

r

s.

C

ontribute to the cultural development of these villages by the provision of drinking water.
Strategies:
Construction of wells or boreholes that are

fed

to taps at

a

public place

in

the villages.

Draw

water from wells to

irrigate

crops

,

improv

ing

agricultural production. 

Facilitat

e

access to

safe

water for health reasons to save lives.

Reduce t

he cost of

obtaining

water

, and therefore

the cost of living.

Prepare farmers for the changes this will bring to cultivation and harvesting

.

Maint

ain

wells and boreholes

through

village development committees.
Beneficiary and Result to be obtained: 
More than 500 villagers per village will receive drinking water either by the well or by the boreholes fed through taps.
Additional agricultural cultivations will be possible in the dry season. 
So, the populations of the villages will be able to have drinking water through all the seasons of the year.