CDH Project about Environmental Eduction with farmers,
Environmental education with farmers. So this alerts farmers over the danger of using chemical pesticides and the harm they cause to the environment.  Therefore, it offers alternative solutions that can be adopted.  It also teaches farmers to use fertilisers rationally, and make compost.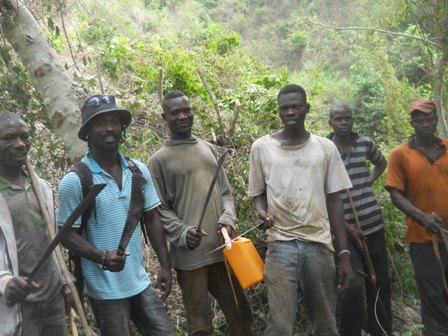 General context about environmental education to farmers.
In Togo 70% of the population are involved in agriculture.  So, their work on the land remains precarious, working with rudimentary tools.  They have taken to reducing their labours by purchasing pesticides to facilitate their weeding work, even though most of these pesticides are expensive.  However, the pesticides are very dangerous for the soil, for the farmers' health and also produce potentially harmful agricultural products.  Centre des Hommes' program raises awareness among farmers of the dangers caused by the use of chemical pesticides, encourages them to use fertilisers rationally, and teaches them about making compost as green manure, which is cheap and is friendly to humans and the environment.  Several of these programs have already been carried out in Kpalimé and surrounding villages in Togo.
The means of realisation of the project about environmental education to farmers.
T

o achieve environmental education

for farmers, CDH

:

Assess

es

a

village or community of farmers where the project should

take place

.

Organise

s

the project management

to have

the necessary materials and tools.

Ensures there is the

financ

e

and transport.

Incorporates

one of the collaboration partner program days

,

Good Deeds Day

.
The results to be obtained
The results to be obtained:
Among at least 15 farmers in each village, raise awareness of the dangers of using pesticide, the rational use of fertilisers, and the practicality of natural compost–making on permaculture principles.
The following images show CDH environmental education activities with farmers.
YOU are welcome to Donate for this good cause!