Twinning project is GEN call of project For Ecovillages, Eco-projects, regional and national Ecovillage networks to twin one project of global south that match with one another project of global north. To bring out a collaboration between one and other projects from both sides.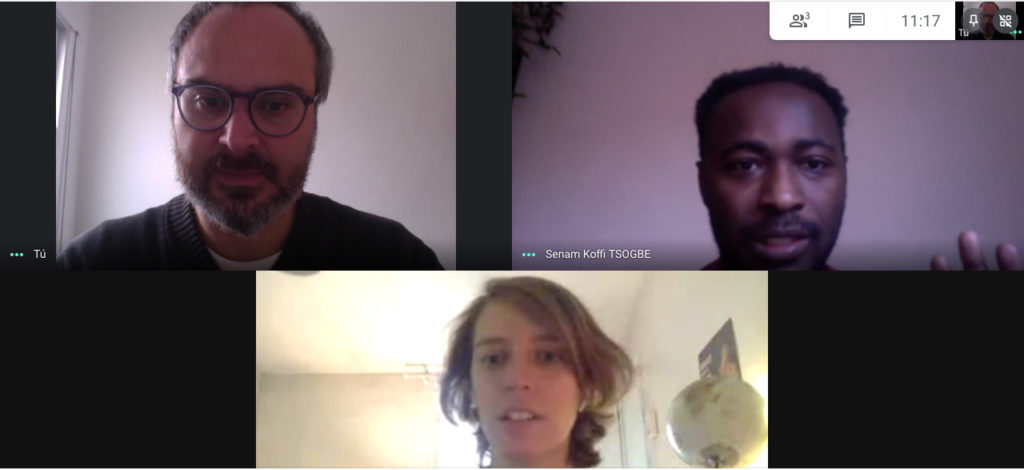 Centre Des Hommes from Togo was interested and apply for the GEN twinning project by presenting its project Ecovillage Centre Des Hommes ECDH. The Ecovillage Centre Des Hommes project was selected among 45 applications, with every region represented. This means Centre Des Hommes have been shortlisted and the GEN team has thoroughly evaluated all the applications and felt that Ecovillage Centre Des Hommes had great alignment with La Bolina in Spain. Then we (Representant of Centre Des Hommes and the representant of La Bolina) were invited to meet each other and double check whether we might like to foster friendship and work together to design a mini project together that will highlight our commun project to be selected as best twin project by GEN.
Then La Bolina represented by Dario and Centre Des Hommes represented by Senam designed together a project call News story:
2 sides of local development and migration, 1 common dream, Despite the differences in the context where we are located, our 2 organizations share common aims and backgrounds:
– Centre Des Hommes (CDH) focuses on local development in Togo involving farmers, artists and children to offer them opportunities to overcome poverty through social entrepreneurship and education. They are in the process of building an ecovillage site where to support the local community to thrive, but they need to do water management intervention on their land as one of the steps that will facilitate the realisation of the training center "Ecovillage Centre Des Hommes" (ECDH).
– La Bolina envisions a world of connected ecological, regenerative and intercultural communities and activates this vision in a depopulated rural area of southern Spain. They are dedicated to the promotion of a local circular economy and a dignified and respectful integration of migrants and refugees, running education and training programmes and growing and selling ecological vegetables.
NEW STORY: 2 sides of local development and migration, 1 common dream
NEW STORY is a project that will create a short video and a crowdfunding campaign to tell the news (story) on the different kinds of education that our Centre Des Hommes (CDH) and La Bolina entities provide to fight against poverty, to protect the environment, and take care of the health of the earth and people with the goal of increasing their impact.
The project will benefit the human and environmental development of the populations of our communities and villages. The video aims to raise awareness of the local population on the information of the objectives of sustainable development and to propose solutions to the rural exodus of young people in the villages, bringing inspiration about how the communities can emerge from poverty and that the young people can be self-sufficient in their own village while protecting their environment.
The crowdfunding campaign will invite donors from the Global North to support CDH to create the water retention landscape that they need to start the construction of their ecovillage project, and donors from the Global South to support La Bolina in its work of integration of migrants and refugees. We will also include aspects of non-monetary exchange and gift economy to create a new narration for the cooperation between a project in Europe and a project in Africa based on exchange and mutual support.
Then we come together in this project because we believe that we can support each other with our experiences and create a mutual benefit. We believe we can improve local lifestyle /quality and increase our awareness, knowledge and skills.
People in our communities will be more educated and the communities more self sufficient. Migrants will be more aware of dangers, the reality of the living conditions in a European country, local rights, also possibilities and opportunities to have a better life.
However the NEW STORY: 2 sides of local development and migration, 1 common dream have been selected and win 1000 Euro as grants to be realised.
The video project to highlight the commun project of Centre Des Hommes and La Bolina was created by the collaboration between Centre des Hommes (Togo), La Bolina (Spain), and an enthusiastic GEN Ambassador Adélaïde Merle.
Then Centre Des Hommes and La Bolina sent the final report to GEN about their collaboration result and twinning which was approved and put in articles of GEN.
Read more about this Twinning project here.
Watch the Video resulting below.